Guided Inquiry for High School Science
Foundation Science was an 8-year project funded by the National Science Foundation to develop introductory courses in physics, chemistry, biology, and earth science. This website describes these curricula and subsequent NSF-funded projects and products that resulted from challenges that arose as a result of the development and implementation of these materials, including the Electronic Teacher Guide and the Universal Design for Learning versions of selected units of biology and physics curricula.
EDC was founded in 1958 and its first project was PSSC Physics. This groundbreaking curriculum, also funded by the National Science Foundation, focused on science as the product of experiment and theory, constructed by real people.  Foundation Science was developed within EDC's Learning & Teaching Division, which continues to investigate and produce innovative science education materials. 
Comprehensive Curriculum
The Foundation Science program consists of full-year introductory courses in physics, chemistry, biology, and earth science. In addition to being scientifically rigorous, these curricula are designed to engage and excite students, support deeper learning, and develop in students the skills and practices of science through the use of features such as real-world challenges, narrative nonfiction readings, productive discussion, and investigative experiences.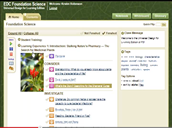 Collaborating with CAST and the University of Michigan, EDC created the Universal Design for Learning (UDL) Curriculum Toolkit; the goal was to create an authoring platform to allow for the transformation of curriculum into Web-based, UDL materials.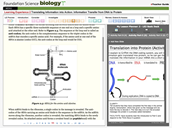 EDC developed and tested a prototype electronic teacher guide for a 12-week genetics unit in Foundation Science: Biology to determine how a digital guide could impact high school teachers' implementation of the instructional materials and their teaching practice. The prototype eTG, which was based on the existing print guide, has a flexible design that supports curriculum planning and teaching needs of teachers with different knowledge and skills profiles.